Alex Carlile is the pseudonym used by a sour faced Jew & lawyer who is attacking Holy Mother Church using the law as a weapon while keeping very quiet about Jews Raping Children In Bathhouses. He is also attacking Iran - see Israel Nervous About Alleged Iranian Nukes. He also favours the thugs who run Israel while admitting very halfheartedly that they are evil. He was at it with Alison Levitt QC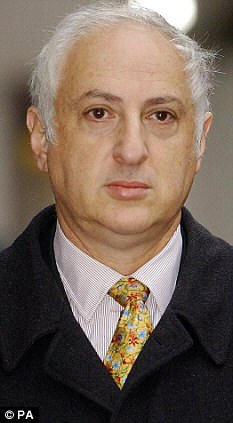 He looks like an unpleasant rogue.
Jew Says Christian Religious Orders Should Be Barred From Education [ 10 November 2011 ]
QUOTE
The Catholic Church should no longer run a leading school where child sex abuse went unchecked for 60 years, a damning report has recommended. Its author, [ the Jew ] Lord Carlile of Berriew QC, said all faith schools should be run by independent educational trusts, maintaining a 'faith ethos' but with lay governors. His independent inquiry found monks at Ealing Abbey in west London assaulted pupils at St Benedict's, one of the country's top Catholic schools, from at least the late 1940s until 2007. He detailed 21 separate abuse cases at the school. St Benedict's is under Ealing Abbey's watch, which is run by Benedictine monks...........

Lord Carlile strongly criticized the cover-up of sexual abuse and sadistic bullying at the school and the destruction of documents as the abbey repeatedly failed to intervene or investigate........

The report said the crimes of Father David Pearce, jailed for a catalogue of abuse against five boys over a period of 36 years, illustrate how 'St Benedict's rule of love and forgiveness appears to have overshadowed responsibility for children's welfare'. Pearce, referred to as the 'devil in a dog collar', was jailed in October 2009.
UNQUOTE
The Jew, Carlile puts the boot in. To be fair Holy Mother Church has handled the whole thing very badly. The minimum response should have been keep the perpetrators away from children. Naturally he kept quiet about abuse by rabbis but then being a Jew the truth was always going to be subordinate to the agenda. Destroying the Church's moral authority is another step in destroying Western Civilization.
PS The Jew Shatter is simultaneously attacking the Church in Ireland. See Ireland Snubs Vatican
Jew Wants To Spy On Us [ 15 November 2015 ]
QUOTE
The timetable for giving police and security services new powers to intercept communications data should be "expedited" in the wake of the Paris terror attacks, a former independent reviewer of terror laws has said.

Writing in a piece for the Daily Mail, Lord Carlile outlined his belief that "now, more than ever" British security services need to be equipped with "all the powers that they need" and that "can be done without any real risk to hallowed freedoms". As a result, he is calling on the Government to get its recently-published draft Investigatory Powers Bill into law "as soon as possible"........

"I think what the public wants to know is that effective action is being taken to protect them ..."
UNQUOTE
People do want to be protected from vicious Third World thugs. Exporting them is a good answer. Stopping them from getting here is better. The Jew Carlile is not interested in protecting us. He wants to destroy Free Speech. When Illegal Immigrants get to Israel Jews put them in Concentration Camps pending expulsion. They are serious about Ethnic Fouling.

Alex Carlile ex Wiki
Alexander Charles Carlile, Lord Carlile of Berriew CBE QC FRSA (born 12 February 1948 as Alexander Charles Falik[1]) is a Liberal Democrat member of the House of Lords. He has been described as one of Britain's top legal experts.[2]

Early life and career

Alex Carlile, the son of Polish Jewish immigrants Erwin and Sabina Falik,[3] was brought up in Rossett, North Wales and Lancashire. He was educated at Epsom College and at King's College London where he graduated in Law in 1969. He was called to the Bar by Gray's Inn in 1970 and became a QC at the unusually young age of 36.[4]

Lord Carlile of Berriew is a practising barrister and former head of chambers of 9–12 Bell Yard, a leading set of barristers' chambers. He successfully defended Diana, Princess of Wales's butler, Paul Burrell, against charges that Burrell had stolen some of her estate's belongings.[4] In 2001 he was appointed the independent reviewer of terrorism legislation.[5] Carlile stood down as head of chambers at 9–12 Bell Yard in March 2008.

Carlile was appointed Commander of the Order of the British Empire (CBE) in the 2012 New Year Honours for services to national security.[6]

Political career


Carlile was created a life peer in 1999, as

Baron Carlile of Berriew

, of Berriew in the County of Powys, having previously been a Liberal Democrat Member of Parliament for Montgomeryshire from 1983 to 1997; he had stood unsuccessfully as a Liberal for East Flintshire in February and October 1974. As the sole Welsh Liberal Democrat MP for Wales after the 1992 election, Carlile helped steer the party through one of its low points. He was instrumental in the pre-devolution discussions with the Welsh Labour Party that led up to the 1997 devolution referendum.

According to the Register of Lords' Interests, Lord Carlile of Berriew was inter alia a director of 5 Bell Yard Ltd and the Wynnstay Group of agricultural feed manufacturers, agricultural goods merchants and fuel oil distributors; a Deputy High Court Judge; a Chairman of the Competition Appeals Tribunal; and a trustee of the White Ensign Association. He became President of the Howard League for Penal Reform in 2006.

He is a director of a strategy and political risks consultancy.

Carlile was, in 2014, principal proponent in favour of the rescission of Maryam Rajavi's travel ban. The Supreme Court sided with government in spite of the intervention of Mishcon de Reya and Lord Pannick QC, whom Carlile instructed.[7]