Birmingham
Birmingham was industrial. Then the work went so the place changed. Pakistani Perverts made matters worse.
Police Knew English Girls Were Being Raped - Police Ignored Major Crime
QUOTE
West Midlands Police failed to publish a report showing the full scale of child sexual exploitation in the region for SIX YEARS and the link to Asian grooming gangs....... It highlights in shocking detail how young girls in care were being failed by police and Birmingham City Council. Other reports show how predators targeted both children in care and those living at home, virtually unheeded for years.

One city outreach worker with the Children's Society had told the 2009 report: "I have no doubt that every girl living in a childrens home in Birmingham is being sexually exploited, has been a victim of sexual exploitation or is being groomed for sexual exploitation."....

Meanwhile, a report from 2010 said of suspects, the majority identified were from an Asian background - a large proportion of whom were of Pakistani origin. The majority of suspects in the force area were likely to be from a Muslim background, the report said................

One from 2010, titled Internal Human Trafficking For Sexual Exploitation Within the West Midlands, revealed how:
*There were 139 female victims, with 78 per cent white;
*Half of victims lived in parental homes, while 41 per cent lives in care;
*Of suspects, the majority identified were Asian - a large proportion of whom were Pakistani origin;
*Regionally, 'a significant proportion of suspects were from a Muslim background;
UNQUOTE
Rotherham is dreadful. Birmingham is just as bad but the police are better at making excuses for letting Pakistanis get away with rape.
---
Italian Government Incited Third World Immigration By Making It Legal [ 24 June 2015 ]
QUOTE
The 'mare nostrum' policy has acted as a magnet for boat people; the crisis is only growing............ Foolishly, last October Italy's left-wing government became the first European Union country to decriminalise illegal immigration and deploy its navy at huge expense to save 'illegal' migrants [ e.g. 6,777 Illegal Immigrants Inflicted On Europe By Italian Government ] crossing the narrow Sicilian channel in open boats from North Africa (Libya mainly) in order to bring them to Italy and thus the European Union — where most remain....... The policy change, driven by a perverted mix of human decency and political correctness, was pure folly: it has acted as a green light to wannabe boat people everywhere, whose numbers soar as the chaos in Africa and the Middle East escalates. The result is an exodus of biblical proportions out of Africa into Italy. So far this year, more than 100,000 boat people have arrived in Italy — two thirds of them brought ashore by the Italian navy...............
According to the UN High Commission for Refugees, 1,600 boat people have died since June — 25 a day, roughly — crossing from North Africa to Italy. That figure is undoubtedly just the tip of the iceberg......
Their latest ruse, however, is to refuse to say who they are, in order to leave Italy and reach a country whose welfare system is more generous and accessible — such as Britain or Germany....... There are no easy political solutions [ apart from shooting them, not bribing them, hanging et cetera - Editor ]. Silvio Berlusconi, when prime minister, did a deal with Colonel Gaddafi to stop the boats setting off from Libya. It worked. But the deal went up in smoke when 'we' got rid of the colonel. Now, thanks to us, Libya is in meltdown.
Spain especially, Greece too, and even the Maltese, use force to keep out migrants. Just what, I wonder, would David Cameron do if confronted by an armada of boat people coming across the Channel?
UNQUOTE
Come back Silvio, all is forgiven. You just made self-righteous bores envious. Cameron spoiled the Libya deal by sending the Royal Air Force there to murder people. Cameron is a war criminal & Traitor.
Pakistani Raped Englishwoman In Birmingham [ 4 June 2016 ]
That's what they come here for. Birmingham has been turned into a Third World Hellhole by Treason, by Blair, Brown, Cameron & the rest of the Enemy Within.
Black Gangs Banned From Birmingham [ 29 August 2017 ]
QUOTE
Two violent black gangs—the "Burger Boys Gang" and the "Johnson Crew" have been banned from the city center of Birmingham, England in what is a last desperate measure by the authorities to try and halt the nonwhite crime plague that is enveloping Britain's second largest city.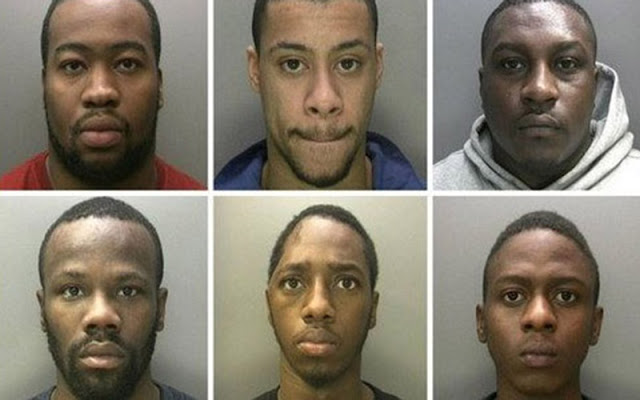 According to a report in the Telegraph newspaper, eighteen blacks from the two notorious crime gangs have been banned from entering areas of Birmingham "following a landmark court ruling."............
Ten of the blacks are currently serving prison sentences, including Reial Phillips, 21, who was at the heart of a series of turf war shootings in the city, which left eight people injured...................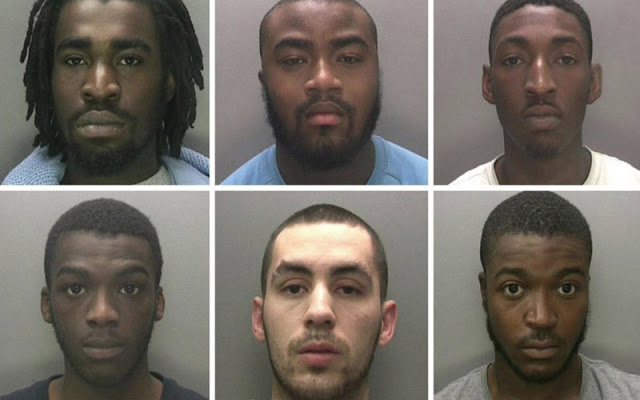 West Midlands Police and Birmingham City Council have now secured full injunctions against the 18 men in what is believed to be the largest group gang injunction ever secured........
The injunctions were granted after more than 80 witnesses gave evidence at Birmingham Crown Court and also allow police to restrict the vehicles and mobile phones they use.
UNQUOTE
See the faces, know the crime, Englishmen are now a minority in Birmingham. Criminals like these are an imported problem, one created by the political class, Labour & Tory.