Winnie Mandela
Winnie Madikizela-Mandela was the wife of Nelson MANDELA until he sacked her. She is also from the same tribe, Xhosa. He managed to stay clean - for public consumption at least. She was involved in inciting murder, murder quite possibly and fraud. The BBC was very eager to keep us ignorant about the murders. The Wikipedia is only telling us about one of the cases. The Washington Post settles for at least a dozen. Then there was her major involvement with major criminals that the main stream media keep hidden. One perpetrator and close friend was Hazel Crane, a criminal Jew(?) from Belfast married to an Israeli Mafia boss. See Winnie Mandela And Jews for more and better details.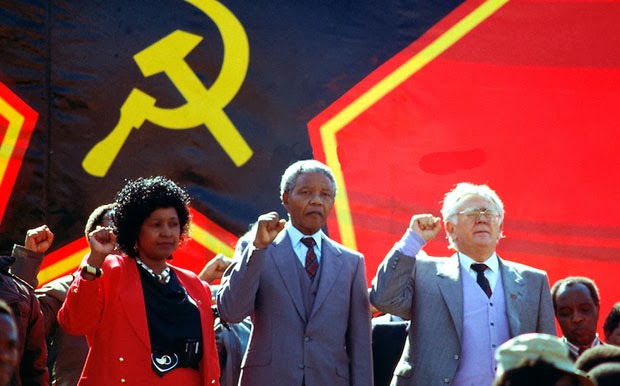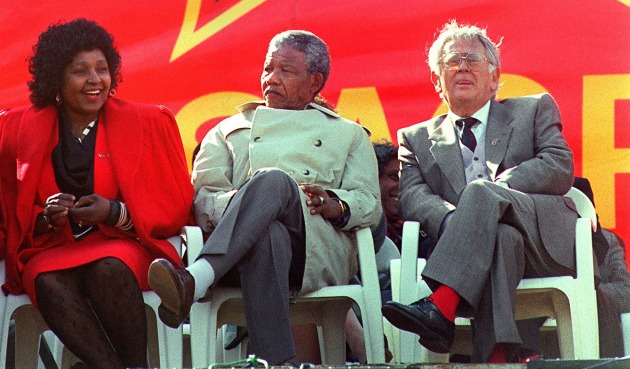 The stupid looking one is Mandela. The other is the Jew Slovo, his controller.
How To Be A Good Communist by Nelson Mandela
Mayhem
QUOTE
Winnie Mandela's role in this mayhem is one of the haunting questions of the liberation struggle. On Monday, a decade of allegations, rumor, innuendo and conflicting sworn statements will reach a crescendo as South Africa's Truth and Reconciliation Commission begins a week of public hearings on the activities of the Mandela United Football Club. At least 12 slayings will be examined, including those involving the Chili family.

Two questions -- devastating in their asking -- are central to the hearings: Did Winnie Mandela order her club to kill? Did she kill, as well?

Various witnesses from the football club, whose credibility in some cases is suspect, have alleged that the answer to both questions is yes. These witnesses will testify this week, along with victims like Chili. High-ranking officials of the ruling African National Congress also will testify to explain Winnie Mandela's historic status in the party and their efforts to rein her in when she became wayward. And members of the apartheid-era security apparatus are expected to discuss the use of spies inside Mandela's football club to discredit and manipulate her.
UNQUOTE ex Washington Post

Winnie Mandela And Jews
Heavily involved with Israeli Mafia in South Africa in particular Shai Avissar of the Ramat Amidar gang. That is over and above the thieving and murder.
Winnie Madikizela-Mandela ex Wiki
QUOTE
Her reputation was damaged by.... her sometimes bloodthirsty rhetoric. The most noteworthy example of this being ........... where she endorsed the practice of necklacing in the struggle to end Apartheid.

Further tarnishing her reputation were accusations by her bodyguard, Jerry Richardson, that [ she ] ordered him to abduct and kill "Stompie Moeketsi" Ė in January 1989. In 1991 she was convicted of kidnapping and being an accessory to assault in connection with the death of Moeketsi. Her six-year jail sentence was reduced to a fine on appeal.
UNQUOTE ex Wikipedia which is going very easy on her.

Winnie Madikizela-Mandela ex Wiki
QUOTE
On 24 April 24 2003 she was found guilty on 43 counts of fraud and 25 of theft, and her broker, Addy Moolman, was convicted on 58 counts of fraud and 25 of theft. Both had pleaded not guilty to the charges, which related to money taken from loan applicants' accounts for a funeral fund, but from which the applicants did not benefit. Madikizela-Mandela was sentenced to five years in prison.

Shortly after the conviction, she resigned from all leadership positions in the ANC, including her parliamentary seat and the presidency of the ANC Women's League. In July 2004, an appeal judge of the Pretoria High Court ruled that "the crimes were not committed for personal gain". The judge overturned the conviction for theft but upheld the one for fraud, handing her a three years and six months suspended sentence.
UNQUOTE ex Wikipedia

Katiza's Journey
Feeds us more of the dirt. Get it from Fred Bridgeland
---
Mandela Is A Suspect In Two More Murders [ 4 April 2013 ]
QUOTE
The remains of two young men believed to be Lolo Sono, 21, and Siboniso Tshabalala, 19, were dug up in Soweto on Tuesday as their families looked on. If their identities are confirmed, and suspected stab wounds to their bodies verified, police are expected to launch a murder investigation into their disappearance in November 1988.

Sono and Tshabalala were couriers for the ANCís armed wing during the struggle against Apartheid. But in the tense and deeply paranoid atmosphere of the time, they found themselves accused by Mrs. Madikizela-Mandela and her Soweto-based vigilante gang of being police informers.

Eleven years later, after apartheid ended, the Truth and Reconciliation Commission set up to shed light on past atrocities heard from several witnesses that the pair were abducted by Mrs. Madikizela-Mandela and her gang, and that she had ordered them killed for allegedly betraying the cause championed by her husband.......

Police are remaining tight-lipped about the sensitive case, with one detective telling a local paper that President Jacob Zuma is being kept updated on its progress. But they have indicated that if the identities of the bodies are confirmed, they will begin a murder investigation.
UNQUOTE
Nelson Mandela was marketed by Marxists. They used him to incite Black Rage and White Guilt. Joe Slovo, a Jew from Lithuania used the BBC as the South African Communist Party's main publicity operation. Mandela's old woman is a crook in her own right but she inclines more to murder, bullying, thieving & corruption generally. Zuma has a track record. He had four wives and 783 corruption charges. Now he has just got four(?) wives.
Sources
From
http://en.wikipedia.org/wiki/Winnie_Madikizela-Mandela
and
http://www.washingtonpost.com/wp-srv/inatl/longterm/s_africa/stories/mayhem112497.htm
Errors & omissions, broken links, cock ups, over-emphasis, malice [ real or imaginary ] or whatever; if you find any I am open to comment.



Email me at Mike Emery. All financial contributions are cheerfully accepted. If you want to keep it private, use my PGP Key. Home Page
Updated on Saturday, 13 May 2017 22:04:34