"This is a message to David Cameron, O slave of the White House, O mule of the Jews," the man said in the 10-minute video released on Sunday.
UNQUOTE
ISIS speaks, ISIS tells the truth. It is nice to know that someone can and will.
Islamic Blames Cologne Rape Victims [ 21 January 2016 ]
That is the trick that Jews use; do the crime & blame others. E.g. Jews are big in slave trading but accuse us. You doubt it? See e.g. Black Slaves - Traded By Jews or Blacks And Jews. That is what they do with Slavery. Monopolise it then blame nasty White Man in order to incite Black Hate.
ISIS Treasurer Made Off To Turkey With $1 Million [ 9 August 2016 ]
QUOTE
Abu Obeida al-Masri, who served as treasurer of the Islamic State's Syria branch, has allegedly stolen one million dollars from the group and has now made his way to Turkey.
The funds amounted to roughly "one billion Syrian pounds," according to the Al-Masry Al-Youm newspaper. The International Business Times reports that the Islamic State may have issued an order banning the recruitment of Egyptian jihadis because their trustworthiness is now in question after the incident.
UNQUOTE
Robbery is one way of getting rich - unless you get caught.
Islamic Terrorist Killed By Belgian Police [ 8 August 2016 ]
QUOTE
ISIS has claimed responsibility for a machete attack on two Belgian policewomen carried out by an Algerian who shouted 'Allahu Akbar' before being shot dead by officers. The 33-year-old went on the rampage with a knife outside a police station in Charleroi, south of Brussels yesterday, before he was shot by a third officer. Today, he was identified by authorities as K.B. who has lived in Belgium since 2012 and has a criminal record........
Quoting an unidentified source, the ISIS-linked Amaq Agency said Saturday's attack came 'in response to calls to target citizens' belonging to countries in a US-led coalition bombing the extremists in Syria and Iraq.......
Michel condemned the attack which happened as the country remains on high alert in the wake of the Brussels suicide bombings claimed by ISIS that killed 32 people in March..........
The ISIS unit which attacked Paris last November, killing 130 people in one night, is said to have picked up its AK47 and explosives in the city before heading for the French capital.
UNQUOTE
Cameron sent men to Syria to murder people. Syrians answer back. Cameron imports enemy aliens by the thousand. Cameron claims that there is no connection. Cameron is an unscrupulous liar who alleges that Islam Is A Religion of Peace. He has an agenda, the destruction of Western Civilization. The same goes double for Blair, Brown, Bush, Merkel, Obama, Netanyahu & others of that ilk.
PS Notice that the Main Stream Media have stopped feeding us their lies about the joys of Multiculturalism.
ISIS Counterattacking Europe After War Criminals Send Air Forces To Murder In Syria [ 27 August 2016 ]
QUOTE
Britain has been warned of a rising threat of terror from Islamic State fighters after it was revealed more and more are using fake passports to enter the country.........
Now, Europol's director Rob Wainwright has told the Evening Standard the terror group has taken a 'strategic decision' to send fanatics to attack the continent, in the hope of distracting attention from the fighting on its own soil............
Earlier this year, the Metropolitan Police commissioner Sir Bernard Hogan-Howe warned it was a case of 'when, not if' there would be another attack on London.
UNQUOTE
Hogan managed not to notice that English girls were being raped wholesale in Rotherham but then they were Pakistanis.
ISIS Calls For Lone Wolf Attacks On White People [ 7 October 2016 ]
QUOTE
ISIS: New Call for Lone Wolf Attacks ISIS has renewed its call on Muslims living in "Crusader nations" to attack non-Muslims using "widely available" weapons such as knives and blunt objects to murder their victims.
The call is made in the second issue of the ISIS magazine Rumiyah (Arabic for "Rome") which was published in English, Turkish, German, French, Indonesian, Russian, Arabic, and Uyghur..........
In the new PDF issue distributed widely via social media and Google Drive, an article on terror tactics assures Muslims that "one need not be a military expert or a martial arts master, or even own a gun or rifle in order to carryout a massacre or to kill and injure several disbelievers and terrorize an entire nation."......
"It is advised to not necessarily attempt to fully detach the head, as the absence of technique can cause a person to spend a long time attempting to do so, that is, unless the individual's circumstances and capabilities allow for such." [ This is perfectly true - Editor ]
"Lest the operation be mistaken for one of the many random acts of violence that plague the West, it is essential to leave some kind of evidence or insignia identifying the motive and allegiance to the Khalifah, even if it is something as simple as a note pinned or attached to the victim's body," the article adds.....
Despite this and the many other open calls for "lone wolf" attacks by Muslims on non-Muslims, the controlled media and liberal establishment continue to claim that such attacks are "random" and almost always attribute them to "mentally ill individuals" instead of admitting that their pro-Third World immigration policies are to blame.
UNQUOTE
It was Her Majesty's Government's policy to invade Arab countries e.g. Libya for reasons they will not specify, apart from some obvious lies. This helps incite bad temper. That is why the ISIS response makes sense. Blair, Brown & Cameron are War Criminals.
Four Out Of Five Muslims Support ISIS - Allegedly [ 8 April 2017 ]
QUOTE
Most young Muslims in the UK support ISIS
A devastating poll has [ allegedly ] revealed massive support for ISIS among the millions of Muslims living in Britain.
The horrors and atrocities we think of as acts carried out by savage fanatics in war torn Iraq and Syria has an alarming level of backing from what politicians call 'moderate British' Muslims.
The shocking results came to light in a report published by the Office for National Statistics (ONS) after extensive polling was carried out asking Muslims in Britain to rate their feelings for ISIS and the acts carried out by those religious fanatics...........
In a stunningly unconcerned and arrogant manner, as many as 80% of Muslims OPENLY and proudly claimed support for ISIS.
UNQUOTE
The British National Party is misusing the statistics, which don't come from the ONS at all. A less misleading report comes from a Jew - see 80% of London Muslims Support ISIS but the BNP is right about their fundamental point; the Third World parasites are free loaders being used by the Enemy Within to create the Trojan Horses that will be used to destroy England.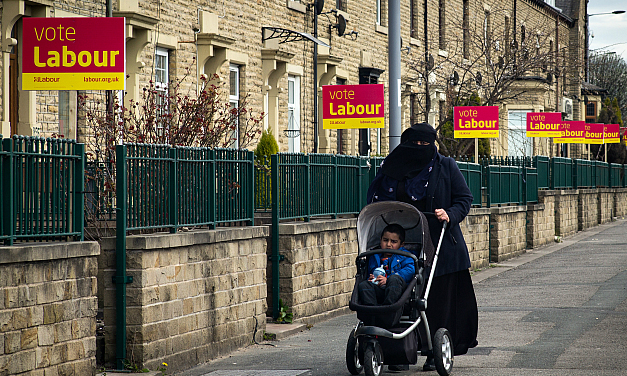 When these "refugees" get here they vote for the party of corruption, the party that panders to Islamics. The Labour Party uses Pakistanis for industrial scale Vote Rigging while allowing wholesale Rape in Rotherham, Rochdale et cetera; a real Devil's bargain. Labour gets its finance from Jews, which is another.
ISIS Claims Terror Attack On London Underground Railway [ 16 September 2017 ]
QUOTE
Alarmed police have flooded London's streets as the terror threat level was raised to critical amid fears the Parsons Green bomber could strike again. The introduction of Operation Temperer will see soldiers replacing police at key sites including nuclear power plants to free up extra armed officers for regular patrols. Scotland Yard said last night it is making 'excellent' progress in hunting the suspected terrorist who set off a crude bucket bomb on a packed commuter train by Parsons Green tube station in west London on Friday.
Had it worked as intended, a massive blast of fire would have killed dozens on the new, open-plan style train which – at 8.20am yesterday – was close to its capacity of nearly 1,000 people.
Mrs May said in a statement from Number 10: 'The Joint Terrorism Analysis Centre has now decided to raise the threat level from severe to critical - this means their assessment is that a further attack may be imminent.'
UNQUOTE
Theresa May says it might happen again; she is right. Theresa May imported thousands of Third World parasites full of hate, potential perpetrators, i.e. Islamics. She is one of the Enemy Within. Of course previous prime ministers are just as guilty, just as much Traitors as her. Comrade Corbyn agrees with her on this issue, on achieving Ethnic Fouling, on population replacement, on Genocide. See the UN Convention on the Prevention and Punishment of the Crime of Genocide for more and better details.
'The Only Way' Of Dealing With British Islamic State Fighters Is To Kill Them In Almost Every Case, Minister Says [ 23 October 2017 ]
This is a fairly sensible view but the man saying it looks like a fool. He too naive to survive in the den of iniquity, which is London politics. He spoke against the "the independent reviewer of terrorism legislation Max Hill QC", who wants to Scrap All Anti-terror legislation. Hill got the job of being the independent etc. because he was going to tell them what they want. A far better approach would be not to import them by the million in the first place but that is the main policy of Her Majesty's Government, the major Enemy Of The People.